J J Watt Houston flood relief fund
101 views
J.J. Watt Houston flood relief fund gets $5M boost from H-E-B's CEO
HOUSTON - Texans defensive end J.J. Watt got a big boost to his Houston Flood Relief Fund Wednesday morning -- $5 million -- bringing the total to more than $26 million.
Charles Butt, H-E-B chairman and chief executive officer, announced a personal, $5 million contribution to the Justin J. Watt Foundation's Houston Flood Relief Fund.
The check was presented by Scott McClelland, president of H-E-B's food and drug division, and Winell Herron, H-E-B group vice president of public affairs, diversity and environmental affairs, on behalf of Butt at NRG Stadium.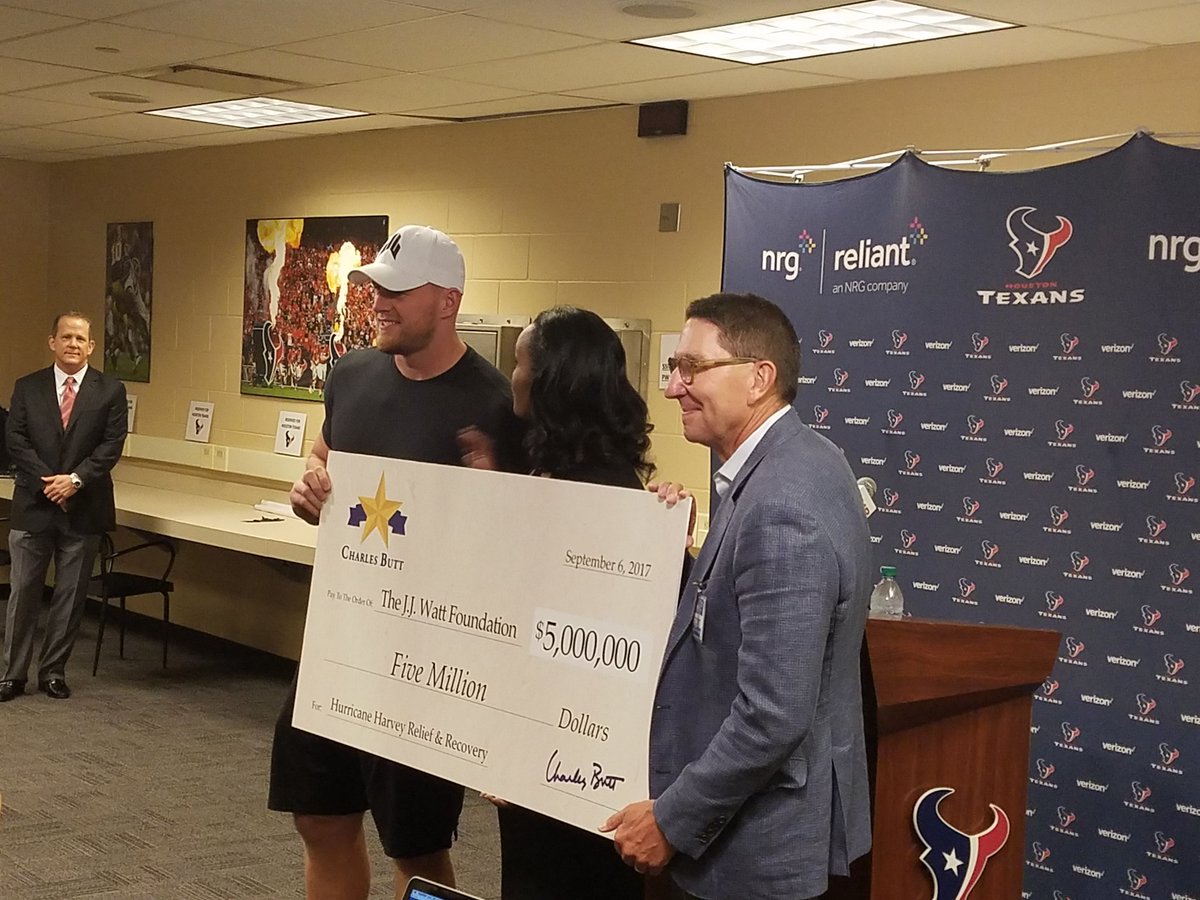 "Throughout this disaster, I have been humbled by the state's unprecedented generosity and heroism," Butt said. "I want to commend and support the extraordinary relief efforts of J.J. Watt who has taken the lead, not as a world-class NFL player or celebrity, but as an individual who saw the need to help his fellow Texans and immediately took action."
"The shining light through all of this has been the people, has been the response, has been the resiliency of not only Houston, but people around the world, showing their support, showing their help," Watt said.
Watt thanked Butt and H-E-B, and commended him on his leadership and commitment to the city.
"I can't say enough as to what's happened over the past week and half, since we started with a goal of $200,000 to where we are today. This will put us a couple hundred thousand dollars short of $27 million," Watt said. "It's unbelievable. I can't thank everybody enough."
Watt said he will keep his fundraising efforts open until 5 p.m. on Friday, Sept. 15.
He plans to make sure the donations also get out to the surrounding Gulf Coast areas of Rockport, Beaumont, Port Aransas and others.
"We are so proud of the amazing work that J.J. has done for our community, including this landmark Hurricane Harvey relief and recovery fundraising effort," said Jamey Rootes, president of the Houston Texans. "All of this is a testament to the power of teamwork and Houston's 'can do' spirit."

Butt's philanthropic efforts extend to The Holdsworth Center and the Raising Texas Teachers Scholarship Fund. He is also the founder of the Raise Your Hand Texas Foundation, an advocacy organization committed to teacher preparation and the development of public school leaders.